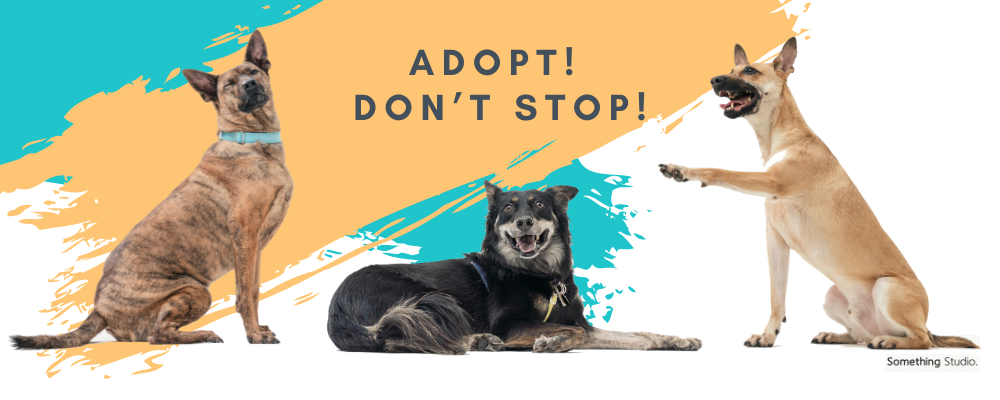 Domestic Adoptions
1.To keep a pet is a big responsibility. Cats and dogs have an average lifespan of more than 10+ years. After a decision to adopt an animal, it becomes a lifetime commitment to love them for the rest of their lives. Do not confine them to living in a cage or thethered; when going out, always use a leash; pay attention to their health and wellbeing at all times.

2.Adopters must be at least 20 years old (males, must have completed compulsory military service in Taiwan), adopters under 20 must be accompanied by their parents.
All adopters need to obtain the consent and support of their family members who live under the same roof. The requirements of taking care of an animal needs to be fully communicated with other members of the family before making the decision to bring home an animal, this will help to avoid misunderstandings or misfortunes down the road.

3.Adopters shall not abandon the animal for any reason, including moving, going abroad, getting married, having children, etc., the adopter shall not abandon the animal because the animal is old or sick. It is also necessary to make sure that no one is allergic to animals in the family.

4.After adoption, vaccinations must be given regularly each year; heartworm medications and preventatives should be given to a dog or cat every month.

5.Adopters agree to take dogs out for a walk daily (2-3 times a day, half an hour each time). A happy and healthy dog needs regular exercise.

6.When going outside, remember to always use a leash. Outdoor accidents are unpredictable and the tragedy of not having your animal on a leash often happens in an instant.

7.Cats are often lively and curious, pay attention to the safety measures at home in regards to windows and doors.

8.Every dog/cat has a unique personality, so be patient with them (such as with toilet training). Usually the training fails because the underlying source of the problem has not been addressed, so please don't beat or yell at the animal.

9. After the adoption process has been completed, TSPCA will continue to be in contact with the adopters about the animals periodically. Please don't feel that it is troublesome to receive our calls, we must ensure and keep checks on the safety of the animals and their living environments after adoption.
Dog Size:
Extra small-under 5Kg
Small-6~10kg
Medium-11~24kg
Large-25~34kg
Extra-large-35kg or above
Cat size:
Typical adult cats 4~6kg



※If you would like to find out more about our adoption procedures, please contact or email:adoptions@spca.org.tw。




※We also urgently need foster volunteers and pet supply donations. Please help us help these animals find a forever home!
International Adoption
The TSPCA very much welcomes people from overseas to apply for the adoption of our animals! People in Taiwan often have inherent preferences for purebred dogs, and in addition, due to certain traditional beliefs and space limitations, certain types of dog have a harder time finding homes and have had low adoption rates. These types include black dogs, tabby dogs, white-pawed dogs, and medium-large sized dogs. As a result, adoption applications from abroad would give these dogs that have great difficulties being adopted in Taiwan an additional opportunity to find a home.

Even though international adoption procedures are often more complicated and the cost is higher, sometimes this is the only chance for an animal to ever find an adoptive family. International adoption is already one of the most important channels for animal rehoming here in Taiwan.

At present, most of the requests come from Canada and the United States. TSPCA will carefully match, review, and assess applications to make sure that the right home is found for our animal. We also continue to follow up on our animals after the animal arrives in a new country.


What kind of dog is suitable for an international adoption?
Most animals at the TSPCA come from cases of animal abuse and neglect. Some dogs are in poor physical condition, such as those with heart problems, infectious diseases, asthma, etc., which makes them unsuitable for long-distance flights.

Some dogs that have a timid personality or are too anxious and sensitive will also not be suitable for an overseas adoption. Although TSPCA may provide behavioral training before the animal travels abroad (such as crate training), they may still struggle when being placed in a completely new environment. Therefore, we only recommend dogs that have a highly stable personality and good health.

If you are thinking of adopting from us, the TSPCA will assist you in finding a match and will recommend a suitable dog for you.


※At present, the TSPCA only recommend dogs as candidates for international adoption, this is because compared with cats, dogs are easier to train, better at adapting to a new environment, and can be introduced to strangers more easily.




International AdoptionQ&A
Q1.How long do I have to wait to meet the adopted animal?
A1.Due to the current global pandemic, there are very few flights to and from North America and Taiwan, flight numbers have been reduced and may also get canceled at any given time. Therefore, if you adopt from us, you may need to wait up to six months or longer. Ofcourse, we will do our best to make sure the animal finds a flight as soon as possible.

Q2. Are there any restrictions according to country/region?
A2.At present, the TSPCA have accepted adoption applications from Vancouver, Canada so we are familiar with Canadian import requirements. If you are applying from any other country, entry requirements for live animals will differ according to the regulations of the quarantine bureau, so you will need to contact your local government office to find out about relevant regulations regarding animal import. The TSPCA will also find out about export requirements to your country once we are in contact.

Q3.What is a flight guardian? Why does it take so long to find one?
A3.The airline industry has strict regulations on the transportation of animals. Take EVA Air's pet transportation guideline as an example (please see reference 1 for details): In addition to registering with the airline in advance, the applicant must also provide relevant animal health certificates, and each flight has limited space allocated for live-animal transportation (unless the animal is a guide dog, otherwise the animal must be transported as "luggage"). Therefore, any animals being transported abroad must be registered under the name of a flying passenger (name on the flight ticket), whom we call our flight guardian.
The TSPCA will recruit passengers who are flying to your destination to take on the role of a flight guardian, that person will have to agree to provide their name and passport info, and agree to allow the animal(s) to be transported as their additional luggage. We can only make an open call for flying passengers, therefore, it may take some time to find a volunteer.

Q4.Before the adopted animal flies abroad, do they undergo any specific examinations or inspections?
A4.In addition to the health vaccinations required by various countries, the TSPCA will perform a basic PCR test, blood biochemical test, administer the rabies vaccine, ten-in-one vaccine or eight-in-one vaccine before the animal leaves the country in order to ensure that the animal is completely healthy.

Q5.Why does the TSPCA require me to provide home photos and videos of my home?
A5.Typically, the TSPCA's adoption process includes a "home visit" as part of an initial assessment for adoption. This is to ensure that the new home is safe for the animal. We sometimes also provide the adopter suggestions as to how to prepare their home for a new animal. However, for overseas adoptions, we are usually unable to conduct the visit in person unless we have a local volunteer, so you will be required to provide detailed photos and videos of your home environment along with your application.

Q6.If I am certain that I want to adopt, what else do I need to prepare for?
A6.You will need:
a.Patience:
Due to the global pandemic, it has been very difficult to find a flight and a flight guardian. Therefore, it may take at least six months to meet your adopted animal. TSPCA will do our best to unite the animal with you as soon as possible.
b.Adoption cost:
TSPCA will need to charge an adoption fee of NT $8000, which will be used to cover part of the animal's desex surgery, vaccinations, blood work, and quarantine expenses for all animals going abroad.
c.Cost of flying:
The flight fee for an animal is calculated based on the airline's "excess baggage" charge, and the fee will vary depending on the region and the size of the animal.
Example: An 18kg medium-sized dog that flew from Taiwan to Vancouver via China Airlines in September 2021 cost about NT $12,000.
d.Transport cage:
There are regulations for animals to travel in a special "aviation transport cage" to ensure the safety of animals on the plane, this cage needs to be purchased separately. The fee will vary depending on the size of the animal and must comply with international regulations: the animal must be able to stand, lie down and turn around completely in the cage, and the top of the head will not touch the top of the transport cage when the animal is in a standing position.
Example: an 18kg dog with a leg length of about 50 cm and a body length of about 80 cm will need to purchase a Doter Pet Story R300 transport cage, which costs about NT $2,800.
e.Taxes and fees required for animals to enter the country:
The fees will vary according to the regulations of each country and the size of the animal.
Example: In September 2021, an 18kg dog that arrived in Vancouver, Canada incurred a tax that was about CDN $32 (about NT $700).
f.If the country requires other vaccinations in addition to rabies, the TSPCA will make sure the animal is fully vaccinated before departure.
Example: some countries require a vaccination for Lyme Disease.

Q7. Can I get a refund if I am no longer able to wait for my animal to find a flight or if I am unable to go through with the adoption due to other circumstances?
A7.After we approve your adoption application, TSPCA will request that you pay for the relevant fees so that we can start the paperwork, health examinations, and search for a flight guardian. We will keep in touch with you and update you on the progress of finding a flight. If the wait time exceeds six months and we are still unable to find any means for the animal to travel, if you decide to give up on the adoption process, TSPCA will refund the flight cost and entry tax (A6. c,e). But since the relevant medical examinations will have already been carried out by then and the transport cage purchased, these fees will not be refundable (A6. b,d,f). We thank you for your understanding.
If the adopter decides to withdraw after all the procedures have been completed and flight has been booked, then there will be no refunds. 。


※Please see the links below for reference:
Eva Airlines traveling with Pets:https://www.evaair.com/zh-tw/fly-prepare/baggage/travelling-with-pets/
China Airlines traveling with Pets:https://www.china-airlines.com/au/zh/fly/prepare-for-the-fly/baggage/pets